New Exhibitions Open November 6
11/1/2021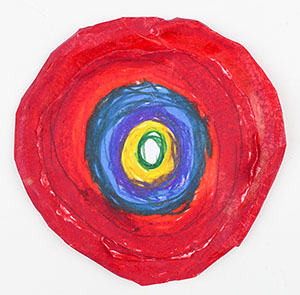 new exhibitions open november 6
Art Enables is pleased to announce three new exhibitions opening on November 6, 2021.
"Art Enables x Trap Bob: DRAWN IN" | Guest-curated by Trap Bob | November 6 – December 19, 2021
This all-
Art Enables
exhibition was guest-curated by DC-based visual artist, illustrator, and animator Tenbeete Solomon, better known as
Trap Bob
. Celebrated for using bold color in her own work, Trap Bob gravitated toward a similarly vibrant palette in her selection of Art Enables works for this show. In her focus on color, she found a unifying theme across a diverse range of subject matter and style—the palettes by which she was most "drawn in."
This exhibition includes work by Art Enables artists on the studio gallery walls as well as an installation in Art Enables' storefront windows. The latter features works on paper by both Trap Bob and Art Enables artists, suspended in gradations of warm and cool hues.
Trap Bob states, "In my own personal work, this use of color is how I create composition and balance, eliciting a reaction from the viewer before they even know what the piece is about. It's something familiar enough for anyone to feel, whether they realize it or not."
"Mary Early: Līnea XI" | November 6, 2021 - January 29, 2022
Art Enables is thrilled to present the work of DC-based visiting artist Mary Early with the site-specific installation "Līnea XI," featuring linear wax forms suspended from the gallery ceiling. This installation is the eleventh in an ongoing series of vertical works begun in 2017. Over the past few years, Early has developed a method of casting slender beeswax lines to create an inventory of objects that may occupy a space to its limits or create a space within a space. Working with the viewer's spatial perception and preconceptions, the beeswax lines and their natural yellow color create a glow as they assemble and converge. While these forms have their own innate physical allure, Early seeks out spaces that allow for vertical partitions that call attention to the space, rather than the objects themselves.
Previous iterations of this work have all been temporary installations, with their scale, complexity, and depth determined in response to the architectural space at hand. Early's prevailing goal is for her work to respect the history of a space, its past inhabitants, and its current and future uses. Art Enables' building at 2204 Rhode Island Avenue has a quiet and resonant past. Originally built as a butcher shop in the 1920s and later in use as the Woodridge neighborhood's public library, the lower level has a raked floor, grading approximately six inches over a fifty-foot span. This subtle detail becomes more prominent when highlighted by the introduction of strict vertical hanging elements. Viewers are invited to explore the space in a new way, guided by the suspended, linear forms highlighting the idiosyncrasies of the existing space while transforming it into a new, sensory experience.
"small works" | November 6 – December 19, 2021
Everyone's favorite grab-and-go exhibition is back at Art Enables! Featuring small, ready-to-take-home artwork by Art Enables resident artists, the work spans a wide range of content and style. Art can be shopped online or in person during our public gallery hours. Whatever your taste, "small works" guarantees that you'll find a gift for someone you love and—most likely—yourself.
Art Enables' resident artists are incredibly talented, creative, and hard-working. Our Studio Arts Program provides our artists a professional space and the resources to develop their practice and engage audiences with their work. You can support Art Enables and our artists by purchasing their artwork. Artists receive 70% of the price of each piece sold, and the remaining 30% goes toward studio supplies, framing costs, and other needed art materials. Since our founding, Art Enables artists have sold more than $1 million in artwork, have been exhibited in hundreds of exhibitions locally, nationally, and internationally, and have made meaningful and important contributions to the visual arts community.
Public gallery hours:
Saturdays, 10 a.m. – 6 p.m., select Sundays (12/5, 12/12, 12/19), 12 - 5 p.m. & by appointment.
Opening:
Saturday, November 6, with public gallery hours, 10 a.m. – 7 p.m., and opening reception, 4 – 7 p.m. Masks required.
Digital exhibitions of the work are also available at www.art-enables.org beginning November 6.